TGIF, am I right? It feels like just four short days ago I was writing about how much I hate Mondays, and here we are. (In case you're missing my sarcasm…as I work most of the day Saturday and often Sunday…plus I'm actually writing this post Thursday night.)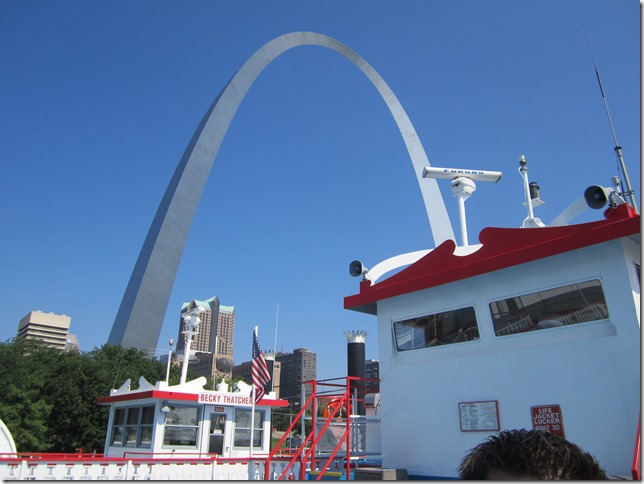 MINI POLL
Every week the Mayor of St Louis has a mini-poll about some topic. This week is music. I may or may not be part of the poll questions.
GET OUTDOORS ST LOUIS!
The weather has been really nice, albeit perhaps TOO hot, but at least it's a great time to be outside. I've got some neat stuff planned in the future and maybe you'll want to participate too!
I posted about the CDM 5k awhile ago, but I wanted to remind you—it's a week from Saturday and I plan to be there. Then on June 1 is the Benton Park 5k which you all KNOW I love (and already almost have my outfit ready).
I was recently told about a cool event on June 8. If you are an out of town reader, you should know that St Louis has this really cool thing called "The Arch." This event takes place there. (The Arch is such an iconic part of the cityscape here that Chris and I decided to use it for our wedding invitation and save the dates!)

WHAT: On Saturday, June 8, Jefferson National Expansion Memorial will celebrate National Get Outdoors Day on the Gateway Arch grounds. The annual one-day event, celebrated by parks and cities across the nation, aims to combat the effects of indoor, inactive lifestyles by encouraging families to spend time outdoors and explore the natural world, while enjoying various outdoor recreational activities.
The Gateway Arch grounds will be filled with various free, family friendly, fun and educational outdoor activities that include a kids' walk, rock climbing, fitness sessions, live music, geocaching, orienteering, gardening information, stream life demonstrations, and much more! Participants will also have a free photo opportunity to remember their day. (See list of activities and exhibitors on the following page)
More than 30 local organizations – including Bi-State Development Agency, CityArchRiver, Great Rivers Greenway, the Saint Louis Zoo and the National Park Service – will share information about healthy lifestyles and public lands at the event. "We encourage area residents and families to come out and experience the exciting outdoor activities St. Louis has to offer at this year's Get Outdoors under the Arch event," said Ann Honious, Chief, Museum Services and Interpretation, Jefferson National Expansion Memorial. "The event promises to include a little something for everyone as it connects area residents to nature and encourages healthy lifestyles."
WHEN: Saturday, June 8, 2013, 9 am – 2 pm
WHERE: Gateway Arch Grounds
COST: FREE and open to the public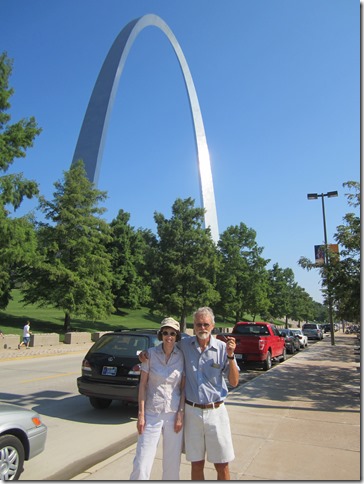 My parents in front of the arch on a visit a couple of years ago.
I won't be able to attend the event, but it seems like a pretty cool thing—if you are looking for something fun and family-friendly (if those things can be synonymous 😉 ) to do on June 8, head on down to the arch!
LAST TIDBIT
My blog was recently mentioned in an article about…blogs! CRAZY, right? Well, local blogs. Always fun to get mentioned for something that I work so hard on. OR for blogging! I'm listed under healthy living, but I find my blog very difficult to categorize. That's probably a problem with my blogging…but oh well. SORRY I'M NOT SORRY.
And on that note. Have a great Friday! What are your weekend plans? (I don't really care. Unless you're doing something really awesome. And then I'll pretend I don't care but secretly I'm really jealous.)