Quick reader poll: do you read my blog FOR the cat pictures, or DESPITE the cat pictures?
(note: I will not change anything based on this poll. please respond in the comments)
The other day the cat spent all day on the bed. Yesterday she spent all day on the couch. Today it's the bed again.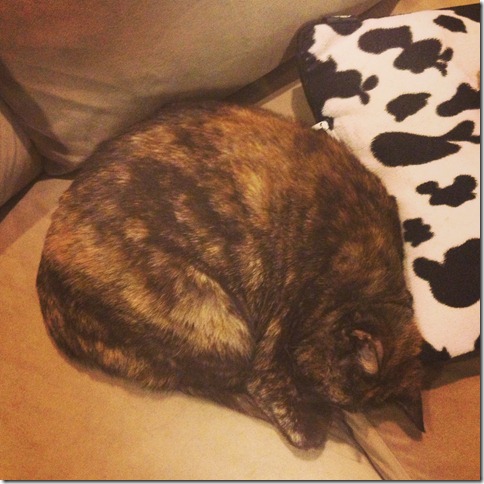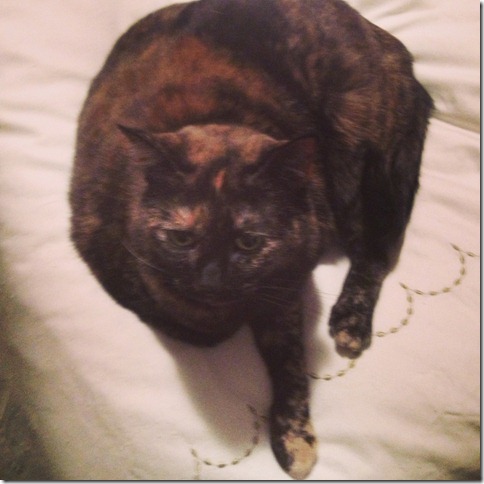 I had a workout with Mike today. We are all (well, Jen, Mike, and I) getting excited about the Benton Park 80's 5K, this year on June 1.
We've run it two years in a row and are shooting for the third year. (first year, second year, well worth checking out for the pictures)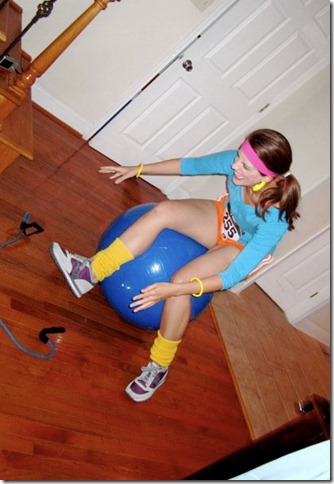 I'm hoping Chris will run and some other people (local readers come on out, and of course it's totally worth flying in for as well, ROSE…) too. This means we have to do a couple of important things:
1) Start thinking about costumes, of course
2) Get Mike, to perhaps win this year rather than coming in second again to the same guy. We brainstormed ideas that might improve his time and help him win: great ideas, like, speed work and dropping weight, or "taking care of" the previous winner Tonya Harding style, or perhaps just showing up for the race slightly less hungover…all valid ideas at this point. (except that second one.) Also helpful, mantras like "second place is the first loser"…also I'm trying to get other fast people to run to really put the heat on him.
The good news is that I've run TWICE this week, approximately 2 miles each time and the second run was far better than the first. Mike suggested I try for 3 to 4 miles since, after all, I was able to run a half marathon just over a month ago and I should be able to do more than that. You'd think.
Thoughts after the other day's post. I'm trying not to let negative thoughts get me down. Let's just put February behind us and try again, shall we?